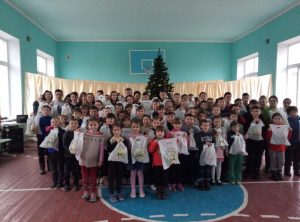 Head of the Charitable Foundation "Boumbouras Foundation", philanthropist Pantelis Boumbouras congratulated schoolchildren and preschool children of the Azov Sea Region with the New Year and Christmas.
More than 1500 sweet gifts were delivered to children from 13 villages of the Donetsk region (Chermalik, Novoselivka, Kamyanka, Mirne, Granitne, Starogniatyivka, Andriivka, Bugas, Kirilivka, Kemerivka, Makedonivka, Kasyanivka, Kremenivka).
"Our Foundation pays special attention to the care of children. They are the future of our country. Every year we sent gifts, including the Azov Sea Region. Because the Greek Diaspora lives there. Let's in the new 2019, every house will have joy, harmony and peace. Let's realize all dreams of the children," noted Pantelis Boumbouras, the President of the construction company "Gefest".