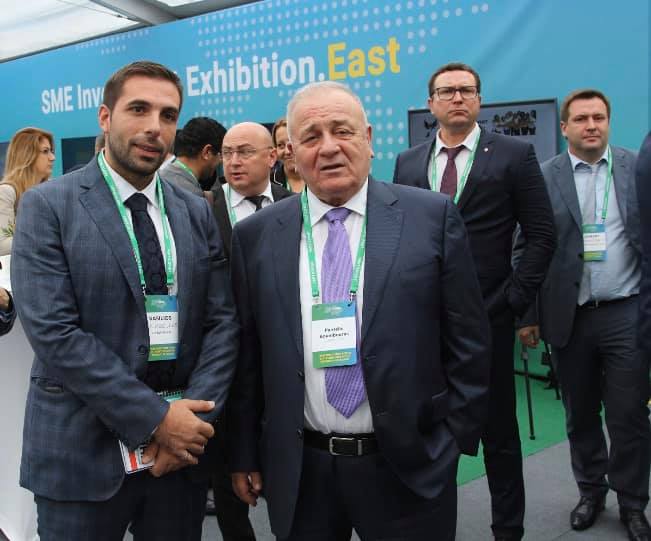 The event was solemnly opened by the President of Ukraine Volodymyr Zelensky.
The forum was attended by the leaders of "Gefest" Pantelis and Vasilis Boumbouras.
«The investment forum in Mariupol is a truly significant event for Eastern Ukraine and the country as a whole. About 600 guests, including top Ukrainian and foreign businessmen, diplomats, ministers, politicians, city and regional leaders.
We were pleased to act as partners and ti take part personally in the forum of such a level», said Vasilis Boumbouras, Executive Director of the "Gefest" construction company.
According to Odessa businessmen, Ukrainian business is going through a difficult period. Not unlike like the whole country. But, if the task is to significantly raise the expectations and improve the investment climate in Ukraine, then the vector is set correctly.
«What the President spoke about at the opening has a lot to do with our business. The " Gefest" construction company has come a serious way of growing. My family and I moved to Ukraine from Greece almost 25 years ago. We created everything from scratch. It was a difficult period. It is enough to recall the economic crisis, as well as various situations of political instability, which in one way or another reflected on the development of the entire Ukrainian market and investment attractiveness as a whole. And with all this, from a small construction company, "Gefest" turned into a successful player in the construction market», said Pantelis Boumbouras, President of the "Gefest" construction company.
Recently, " Gefest" construction company acquired a large Greek contractor company EKATEL S.A. with headquarters in Athens.
The company has the necessary licenses and certificates to participate in international tenders in Europe. Also in equity of EKATEL S.A. there are a number of construction sites, about 100 units of special equipment.
The total area of ​​"Gefest" facilities, which are currently under construction, is more than 400,000 sq. m.
The company plans to buy a number of sites, including ones in Mariupol.
According to Vasilis Boumbouras, this will create new jobs, develop urban infrastructure and increase the attractiveness of the city.