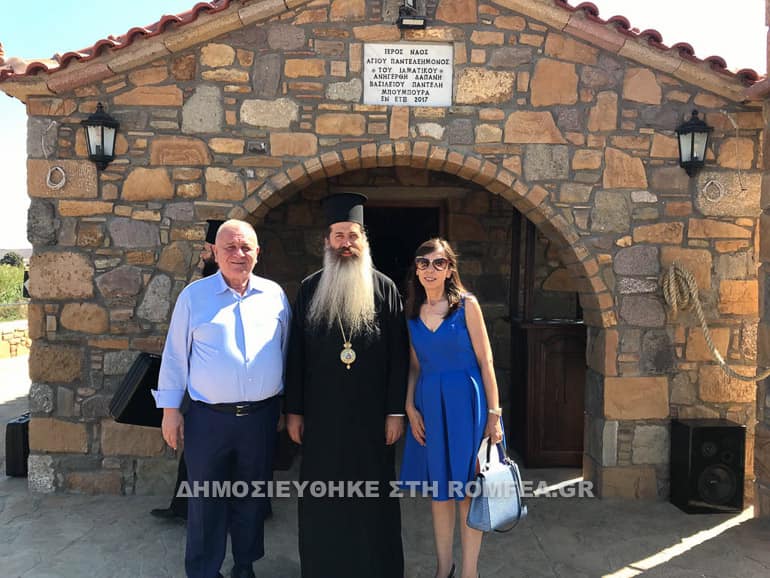 The Bishop of Thespia, Symeon, celebrated the Mystery of the Holy Eucharist on the occasion of the feast of St. Panteleimon. The festive liturgy took place in the temple built in his honor- at the Holy Church of Agios Panteleimonos in Kontopouli, Lemnos. The temple was built a few years ago with the financial support of Greek businessman Vasilis Boumbouras.
«I built this church in honor of my father and my son. The idea of its construction is of particular importance. 100 years ago in the temple area was the house of my grandmother Olga. Once I had a dream in which I saw the incredibly beautiful temple. Mercy and power were coming from it. Then I realized: it was a sign. After a while the construction of the church of Agios Panteleimonas began. I am grateful to God for the power and the opportunity he has given me to implement this good initiative», - said Vasilis Boumbouras.
"Saint Panteleimon diffuses through time the mercy of God in the lives of people, especially the weak, the sick, the afflicted. Compassionate and merciful is the Lord, compassionate and merciful His saints, and so compassionate and merciful we must be, if we want to be true Christians," Simeon said in his sermon.
With warm and moving words, the Bishop referred to the Boumbouras family, the benefactor of the Holy Archdiocese of Athens. With the support of Greek entrepreneur Pantelis Boumbouras, youth will be able to receive music and culture education at the Holy Archdiocese of Athens in Kato Patisia.
From October 2019, these youth structures will be in a new, modern building, renovated with the funding of Boumbouras.